LATICRETE HYDRO BAN®
The new industry standard for waterproofing membranes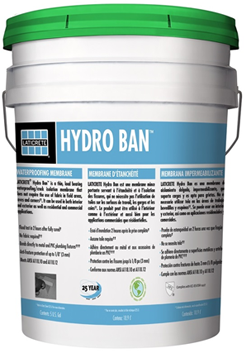 Global Tile are the exclusive New Zealand distributor of Laticrete Globally Proven Construction Solutions.
Hydro Ban is a thin, load bearing waterproofing/crack isolation membrane that does not require the use of fabric in the field, coves or corners. Hydro Ban is a single component self curing liquid rubber polymer that forms a flexible, seamless waterproofing membrane. Hydro Ban bonds directly to a wide variety of substrates.
Decreases installation time enabling the installer to complete installation in a shorter time frame.
No mixing involved, just open the pail and begin applying.
Easily applied with roller, brush or trowel
Easy to apply, no special techniques involved.
Bonds directly to copper, metal, PVC and ABS plumbing fixtures
No need to use multiple materials around pipe penetrations or drains, one product does it all.
For a faster time to tile allowing for greater productivity.
Flood test in 2 hours at 21°C or above
Changes colour from a light sage to an olive green when cured.
Foot traffic in 4 - 6 hours
Cures quickly allowing for a shorter time to the tile application.
For both External and Internal application.
Kitchens and Food Processing Areas
Shower Pans, Stalls and Tub Surrounds
Swimming Pools, Fountains and Water Features
Terraces and Balconies over Unoccupied Spaces
Exterior and Interior
CounterTops
Facades
Spas, Steam Rooms and Hot Tubs
Bathrooms and Laundries
Industrial, Commercial and Residential